Crowned and robed bust of King George V facing left, with Legends GEORGE V KING EMPEROR around it. B.M. in relief on the truncation of the shoulder. All within a raised, toothed border.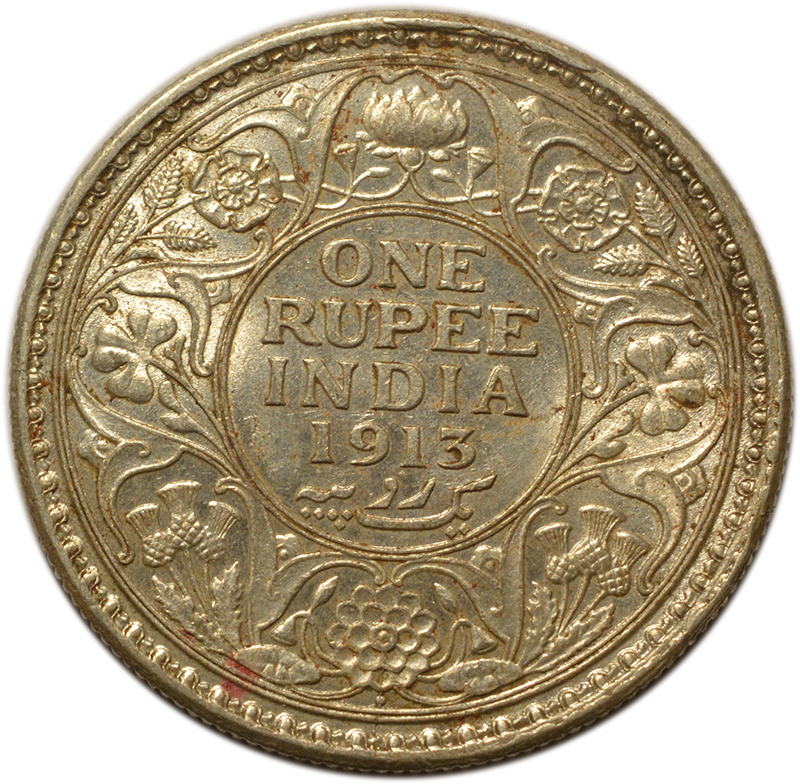 The legend ONE RUPEE/INDIA/YEAR/Yek Rupiya in Persian within a double-line circle, surrounded by a scroll composed of a rose, thistle & shamrock. The Indian Lotus is placed at the top and bottom; all within a toothed border and another double-line circle.
| | |
| --- | --- |
| Type | Standard Circulation Coin |
| Weight (Standard) | 11.66 g |
| Diameter | 30.5 mm to 30.8 mm |
| Edge | Milled |
| Metal | Silver (.917) |
| Orientation | Medal alignment ↑↑ |
| Years of Issue | 1912-1922 |
| Shape | Round |
On the coin issues of 1911, the bust of King George V is shown wearing a robe with a small elephant on it. This elephant had short legs and the trunk appeared to be a pig snout thus resembling a pig. Religious sentiments of many were offended and people refrained from usage of the newly issued coins of King George V. Most of the coins minted in 1911 were withheld from circulation and later melted.
Coins with redesigned bust were later issued in 1912. These had longer tail & legs, clearer tusks & ears.
Bombay Mint (B): A raised dot below the bottom lotus flower. Years of issue: 1911-1922
Calcutta Mint (C): No dot below the bottom lotus flower. Years of issue: 1911-1920

| Year | Remarks |
| --- | --- |
| 1911 | Pig Rupee |
| 1913 | Both Mints |
| 1914 | Both Mints |
| 1915 | Both Mints |
| 1921 | Both Mints |
| 1922 | Both Mints |
King George V - One Rupee: Types & Varieties
| Year | Mint | Mink Mark | Mintage | GK# | PR# | Remarks | Buy Now |
| --- | --- | --- | --- | --- | --- | --- | --- |
| 1911 | C | No Dot | 42,99,924 | 1021 | 207 | Pig Variety | Buy Now |
| 1911 | B | Dot | 51,43,125 | 1022 | 217 | Pig Variety | Buy Now |
| 1912 | C | No Dot | 4,51,22,132 | 1023 | 208 | Elephant with long tusk | Buy Now |
| 1912 | B | Dot | – | 1024 | – | Elephant without tusk | Buy Now |
| 1912 | B | Dot | – | 1025 | – | Elephant with short tusk | Buy Now |
| 1912 | B | Dot | 7,90,67,074 | 1026 | 218 | Elephant with long tusk | Buy Now |
| 1913 | C | No Dot | 7,58,00,163 | 1027 | 209 | Elephant | Buy Now |
| 1913 | B | Dot | 8,74,65,788 | 1028 | 219 | Elephant | Buy Now |
| 1914 | C | No Dot | 3,31,00,150 | 1029 | 210 | Elephant | Buy Now |
| 1914 | B | Dot | 1,52,70,000 | 1030 | 220 | Elephant | Buy Now |
| 1915 | C | No Dot | 99,00,139 | 1031 | 211 | Elephant | Buy Now |
| 1915 | B | Dot | 53,71,979 | 1032 | 221 | Elephant | Buy Now |
| 1916 | C | No Dot | 11,50,00,210 | 1033 | 212 | Elephant | Buy Now |
| 1916 | B | Dot | 9,79,00,000 | 1034 | 222 | Elephant | Buy Now |
| 1917 | C | No Dot | 11,49,74,242 | 1035 | 213 | Elephant | Buy Now |
| 1917 | B | Dot | 15,15,82,659 | 1036 | 223 | Elephant | Buy Now |
| 1918 | C | No Dot | 20,51,20,246 | 1037 | 214 | Elephant | Buy Now |
| 1918 | B | Dot | 21,05,50,363 | 1038 | 224 | Elephant | Buy Now |
| 1919 | C | No Dot | 21,12,06,255 | 1039 | 215 | Elephant | Buy Now |
| 1919 | B | Dot | 22,67,06,054 | 1040 | 225 | Elephant | Buy Now |
| 1920 | C | No Dot | 5,05,00,199 | 1041 | 216 | Elephant | Buy Now |
| 1920 | B | Dot | 5,59,36,544 | 1042 | 226 | Elephant | Buy Now |
| 1921 | B | Dot | 51,15,121 | 1043 | 227 | Elephant | Buy Now |
| 1922 | B | Dot | 20,15,150 | 1044 | 228 | Elephant | Buy Now |